Red Bull Rails – Jindabyne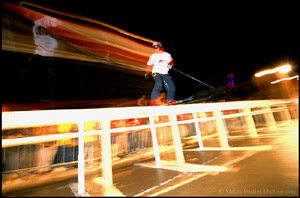 The talk around Jindabyne town is that the Red Bull Rails contest went off! Three days have past and the town is still buzzing from one of the hugest events to be held in Jindabyne.
An awesome selection of Australia's most talented snowboarders and skiers took on the urban terrain of Jindabyne in one very serious rail-sliding event.
Nugget's Crossing car park was transformed into a sea of crowds as cheering from over 3000 excited onlookers amped the competitors into pulling off some amazing stunts.
Heats were held throughout the day (on a 9m rail) but it was the finals at night that really got the crowds going.
Local jibbers and visiting pros were invited to take on the urban-scape of Jindabyne. Snow was trucked in from the mountains and transformed into a steep in-run onto an 18 metre rail for the finals – this comp was not for the faint hearted.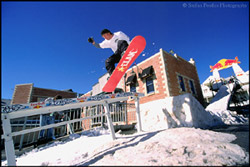 Each competitor was judged on degree of difficulty, execution, overall performance and rail length.
"This is one of the longest rails I've ever seen, with no snow beneath 13 metres of the rail the visual impact alone was enough to put you off. It was a feat just to slide the entire length let alone style it up with some tricks," said Head Ski Judge Adrian Popek.

Oddy Graham from New South Wales took out first prize in the men's Ski Division with an awesome switch on to rail slide. Graham set the crowd off when he gave a victory salute to the crowd with still 1/3 of the rail to slide.
Michael William from Victoria took out first prize in the men's Snowboard Division after pulling off a huge 18 metre back side board slide. William was a dark horse, unseeded rider who not only won the finals but also won the qualification round.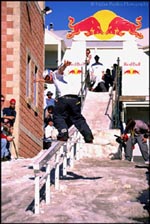 Snowboarder Max Cookes made a big impression on the judges with his 270 to front side board slide in the jam session but unfortunately didn't pull it together for the finals.

The Red Bull Rail series will continue to make it's way around Australia visiting the Gold Coast and Sydney in the upcoming months.


About | Photo Library | Feature Project | Event Archive | Video Sales
Home | Bookmarks | Privacy Notice | Legal | Contact